Mission Organization
Since we purchased the townhome, Lígia, the organizer of us, dreamed of turning our large-yet-inefficient "1 shelf + 1 hanging bar" walk-in closet, into a place for every item of clothing we owned. I am convinced it was that vision that closed the sale on this townhome. The excitement of not having to store out of season items in different rooms, or wondering where to put all of our shoes, got us through that first year in the house with the closet in its original state while we saved up for this project.
The following year, between Christmas and New Year's, both of our employers were closed for the holidays. With 7 consecutive days off, we figured this was the perfect time to tackle that closet! Rulers and graph paper were pulled from drawers, we used what primitive online tools were available (all the way back in the dark ages of 2007), and we visited the big box stores for consultations and measurements. For our budget and level of expertise, a Closetmaid modular system seemed to be the best option. If you are familiar with IKEA's flatpack furniture, it's the same deal. We ended up choosing Closetmaid simply because I am a tall guy, and my clothes take space; IKEA's closet systems (back then) didn't have the depth we needed…
We had about 30 different boxes of tall units, drawers, and doors to assemble. But the flexibility of it worked perfectly for our design. All of it was coming together well on the afternoon of Dec 31st until I was about to hang the final corner piece: it was too big by an inch. Literally 1 inch. The amount of swearing that ensued was justified. We were absolute DIY newbies. No power tools beyond a drill. I knew we needed a table saw to rip down every vertical piece of that corner unit (I admit I still can't make a straight cut with a circular saw). Nothing like renting and cranking up a saw in a small development just as the sun in going down on New Year's Eve.
With a bit of teamwork, patience and good humor, we did it. "We will laugh about this one day!" we said. We were right. Took us over a decade to get there, but we were right. We wired a new light fixture, and the closet felt like a masterpiece. It was elegant, streamlined, and there was space to spare. Happy New Year to us – we were hooked.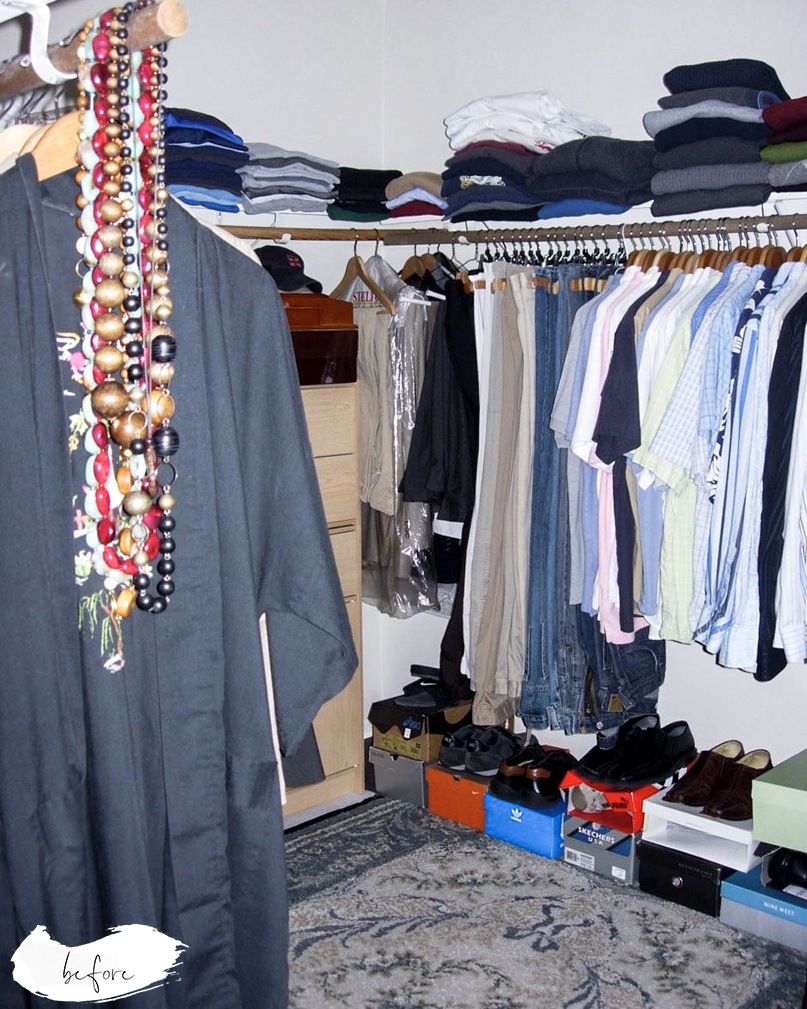 The year that followed, we took what we learned from the walk-in closet redo to just about every other storage area in our home: laundry room, a newfound pantry (a space found under the stairwell that was never used by the previous owners of the house), linen closets and even the garage.
We saw each project as an opportunity for us to strengthen our design and organization muscles. We would neutralize walls, unify flooring, and install organization systems to contain our belongings. In all, we kept costs low by using matching baskets and bins already at hand. We were saving for big projects such as full kitchen and bathrooms remodel.