Meeting Lady Beekman
We fell in love with our second home, affectionately named 'Lady Beekman' by us, over Easter weekend 2015.
We loved our "starter" townhome, Amethyst (we summarized our 8-year experience there in these four posts). We renovated every square inch of that space because we saw the potential of being there long term. Our location proved ideal for two working engineers in similar fields… but not so much for a working parent and a stay-at-home parent of two young children, one of which was an active toddler (indoors for a significant amount of the time during Northeast winters), and one of which was about to start Kindergarten. We needed a little more indoor space for the winters, desired a lot more outdoor/green space, and looked for a great school district. And so the decision was made to move.
When doing our home search over the course of a year, this house kept coming up as a suggested listing when we searched with a "stretch budget" option. It was in the ideal location for us. The right school district, a sleepy cul-de-sac, the right lot size. This house/lot seemed to have a lot of the features we looked for (great location, mature trees, rustic charm, the oh-so-coveted southern exposure bedroom windows, and tons of natural light…). There were only two problems: 1) it was on the very top of our budget, even after drastic price adjustments throughout the 356 days it was listed; 2) it clearly needed extensive renovations.
Since we had been searching for our "forever home" unsuccessfully for a while, always coming back to this listing, our agent encouraged us to go look at it live. And so we did.
Matt and I viewed the home together, but toured separately. We wanted to save our comments for after the tour. We truly are very different individuals, with different backgrounds, who pay attention to different things, and that proves to be a very complimentary strength in our relationship, yet, as one can imagine, it could lead to totally different experiences and opinions on the same thing.
We must have stayed at the house for over an hour… It spoke to me. A lot of the rustic elements such as exposed brick walls and original hardwood floors, reminded me of the farmhouses I grew up in Brazil. I was certain Matt was going to hate it – It was a much bigger project than we were looking for.
The house was built in 1958, and it had only seen two owners. It was a quirky federal cape that saw three expansions in its half-century life. It grew by need, and by many small room additions. It had seven different levels, with many different flooring choices, and it was wallpapered in every inch of its walls, with a total of over 12 types of wallpaper dating back to the 50s. It had oil heat, 2 monster in-wall AC units, and many broken windows. It was extremely outdated. But it was so charming. It had a blooming Magnolia tree in the backyard, one of dozens of trees on the property. And it felt tranquil, secluded, even though it is a great city location! I was in love. And, much to my surprise, when we got in the car, Matt told me he loved it too.
The Magnolia Tree
These are the pictures we took when touring the home that day:
Entryway and Stairs
Office
Kitchen
Eat-In Nook
Dining Room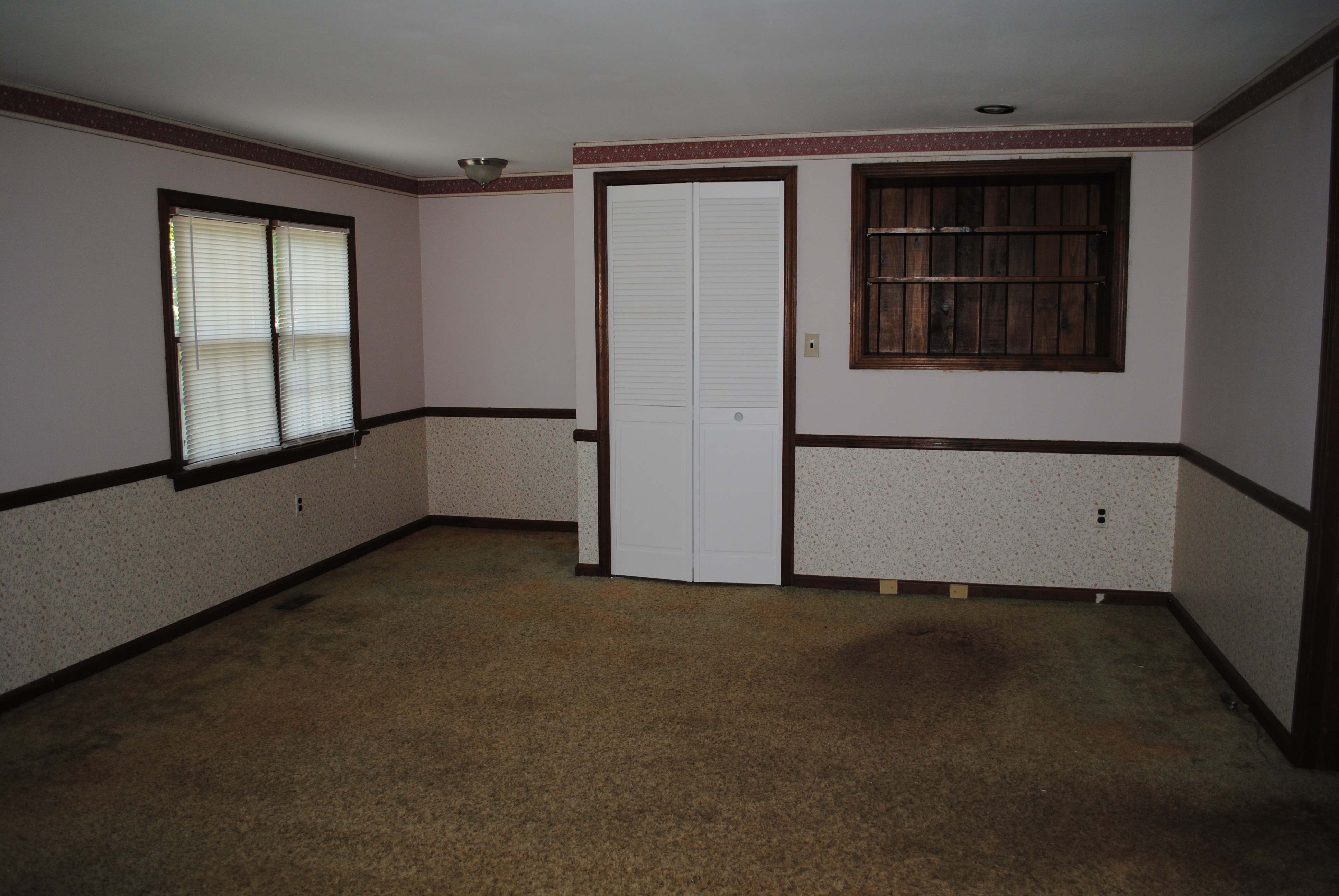 We were smitten… Exactly three months, and a very tough negotiation period later, we moved in. Let's face it, we were young and hopeful… and a little delusional. Lady Beekman still hadn't revealed herself to us. But she was all ours.