Baby Needs a New Kitchen
You might ask us: what about the big projects? The fancy kitchen and the stylish bathrooms? Well, we were both working full time, and both had travel requirements as part of our jobs. We enjoyed the travel when we could – I would fly up to Toronto for a weekend to meet Lígia after her work was done, or she would spend a long weekend in Dublin when I had back to back weeks of training there. There was no rush to get things done – we were working, traveling, learning, and keeping within our budget.
Baby 1 = New Kitchen
As these things go, we planned for the first pregnancy well. Lígia would go back to work after taking the full allotment of maternity time, the daycare at her company was world class (on paper, but that's another story), and we had her mother come for several weeks to aid in the transition. Such perfect plans!
We transformed our former Guest Bedroom into our baby girl's bedroom. Two years earlier, that room had already gotten the neutral base paint and white glossy trim. So, Lígia painted a few designs on the walls, we installed a new light fixture, white linen curtains, and yet another closet got an organization system. We were ready for her. (Initially, she had a crib, then grew into a daybed).
Our kitchen didn't need to be redone to complicate things. But a leak under the sink proved us wrong. Half the bottom cabinets were waterlogged and warped, the dishwasher started making unsettling noises. Who doesn't want to demo a kitchen with a baby due in 2 months? It was not perfect timing, but we scrambled to rearrange our budget and schedule to ensure we had a working kitchen before the baby arrived.
I took down all the cabinets in about a half-day – that was easy! Then, it took 3 full days to remove ceramic title and mastic from the concrete slab – not fun.
Our budget allowed for IKEA cabinetry all in white (wait, if you can, for one of their semi-annual sales), a new Bosch dishwasher, and matching hardwood floors to the rest of the main floor. We did splurge on granite countertops, but we went right to the yard to pick out a slab and got a discount by paying cash. To keep costs low and the timing short, we didn't change the footprint and didn't move any of the plumbing. It happened to be summer, so a pregnant wife who craved steak was totally manageable with a patio grill. Her cravings for brownies had to be satisfied with store-bought until I had the oven reconnected. The refrigerator was located closer to the couch (bonus!) in a hallway, but everything else was out of commission. I set up a makeshift station with a coffee maker (decaf, obviously!) and tabletop microwave to heat up Chinese takeout leftovers.
All told, we had the whole thing done for just under $10k. We kept costs low by acting as project managers and doing the contractor scheduling ourselves. With a timeline of about 8 weeks from demo to backsplash and light fixtures, baby girl came just a few weeks later, so we didn't have any additional disruptions. We were a fantastically happy trio with our shiny new kitchen.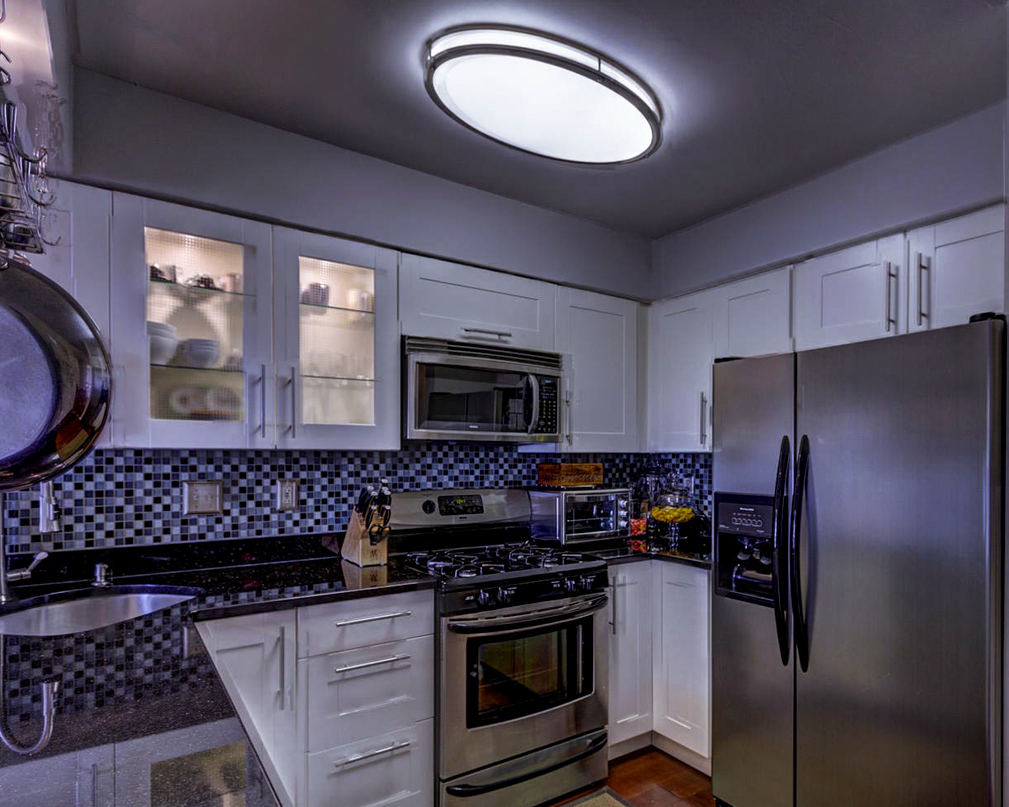 With my newfound confidence, I figured a one-to-one replacement in our builder basic beige half-bath was an easy weekend project. And it might have been, except for the nature of a big guy in a little space and a whole lot of flooring glue. But… we loved the end result. The seamless flooring in our whole downstairs area, the new vanity, mirror, lights and toilet. It was all worth the sweat equity.
And then came baby 2, and with him, the next set of major renovations. Read the fourth and final part of The Gem of a Townhouse.