The Tale of Two Pantries: Part Two
I am guessing if you came back to check out this post, you need nourishment beyond coffee, wine and chocolate. We do too — sometimes. Ha ha ha. As you know, last week, we mentioned how we weren't in the market for a Butler's Pantry. Yet, having the room for one was an unexpected and welcomed gift our family received through the first major renovation Lady Beekman went through in 2015-2016.
Even though we have spoken at length about the process we went through designing our kitchen, we didn't go into details about what lies beyond the cabinets and why we chose what we chose.
Remember when I said I was warned against our design? Twice? By two different people? One of them was the kitchen cabinet planner who would be in charge of ordering all the different pieces of cabinet that would make up our kitchen. The other one was our construction project manager. And, while they both had their hand in our kitchen, Matt and I were the two adults who would not only have to live day in and day out with our choices, but have to organize how our kitchen works for our family.
Enters: the wall of cabinetry!
Both the planner and the project manager had an issue with "the wall of cabinetry", but, for different reasons:
1. Our construction project manager thought we should have a walk in pantry. And, while I get his point, there was no way to accommodate a walk-in pantry deep enough in our kitchen/dining room without obstructing our sight lines between North and South facing windows for gorgeous diffused lighting all day long (one of our main visions for our space). The heart of our home bookended by windows!
2. Our kitchen cabinet planner thought a "great wall of cabinets" as she put it, would be unsightly. She suggested slimmer upper cabinets sitting on granite, or the more traditional combination of floating upper cabinets and lower cabinets topped with granite.
Yet, I had a clear vision on how I wanted the space of our new kitchen to service us and how we live our lives as a family. I had a plan, and I stuck to my original vision…
Even though I will concede that yes, a walk-in pantry could be way more editorial (hello, era of Instagram!), having a wall of deep pantry-cabinets with floor to ceiling storage (bottom 2/3 with pull out drawers, top 1/3 adjustable shelving) has been one of the best organizational decisions of my life! (Quite the statement for someone who does organization for a living!)
Not only does every single item in my kitchen have a home, but I do not need to move any items out of the way in order to get to anything! I simply pull out a (neatly labeled) drawer, and there are my items, all within clear reach.
One of the keys to sustain your organization is labeling! It may seem like an unorthodox concept to label pantries, shelves, bins, drawers, but believe me, "what gets measured, gets done". In this case, labels teach you (and other people, surrounding you. Hi family!) where you get and return your items.
(When I had little kids who couldn't yet read, I used pictures of what went where. Both of my kids learned from a young age to return items to where they found them because of that!)
All my backstock, or, Kanban ("enough-at-hand-stock" to refill my "in use inventory" and trigger my signal for reordering or replenishing that item!), also live in the pantries; the ones adjacent to in-use items. Once my backstock has been used to replenish my in-use inventory, the item immediately goes on my shopping list. This is the key to never run out of an item!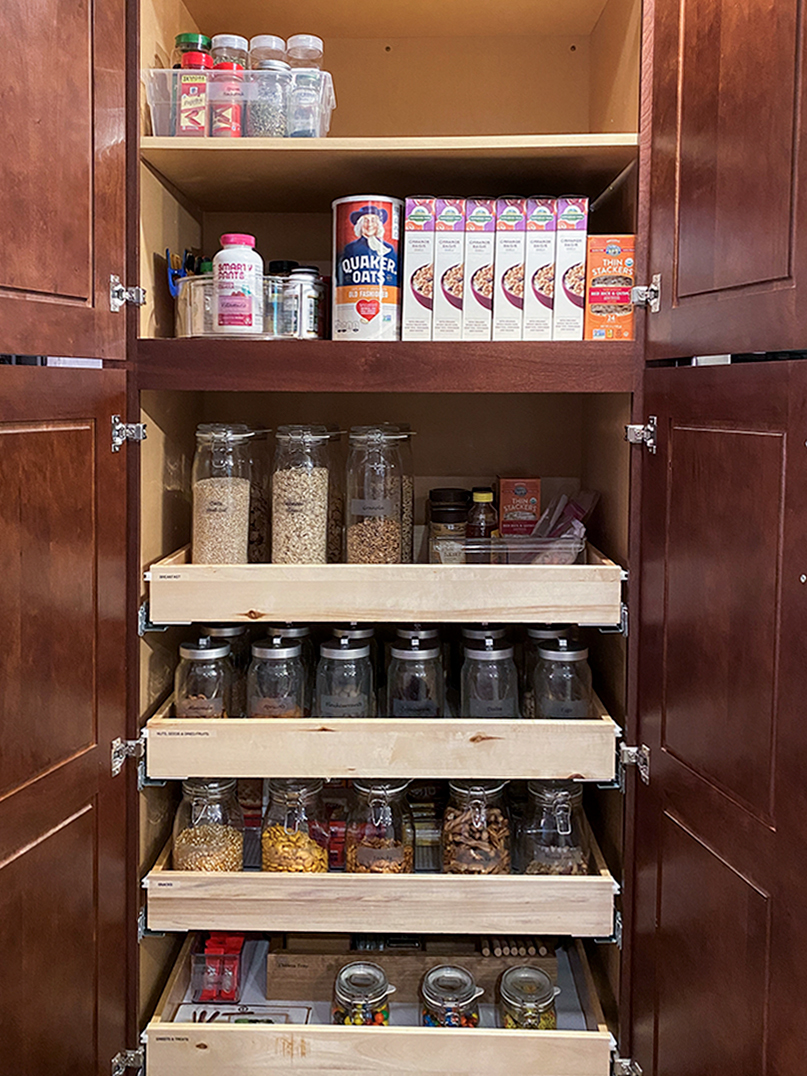 This is a comprehensive look of where all of our food items are stored in our kitchen:
1
Breakfast
Nuts, Seeds & Dried Fruits
Snacks
Sweets & Treats
2
Savory Pantry Goods;
Sweet Pantry Goods;
Sweet Canned Goods;
Baking Backstock;
3
Pastas;
Flours & Grains;
Baking Goods;
Savory Canned Goods;
As a note, I am not tone-deaf. I know we are privileged and have a very large kitchen. Yet, that wasn't always the case. When we first moved in together, Matt and I rented a very small one bedroom apartment. Our kitchen was a 6'x4' galley kitchen with two lower cabinets and three upper cabinets. Our townhome, Amethyst, had a slightly larger kitchen; but not by much. You can read all about it here. Whatever the stage of your life you find yourself in, the size of your kitchen, and even financial situation, I hope we inspire you to do your best at creating the opportunity for organization!
Tip: You can use boxes to contain your items (if you don't have pull-out drawers). Labeled boxes with one category of items work the same magic for your organization as pull-out drawers!