The Heart of the Home
We have always dreamed of having a home centered in our kitchen, where our family seems to spend most of its time. We enjoy cooking all of our meals from fresh ingredients (we rarely eat out), we enjoy hosting (and somehow everyone finds their way to the kitchen), and we eat all meals sitting down at the table as a family. Every major conversation in our lives takes place in our kitchen. We talk about our days, we catch up with friends, we debate world problems… For ALL of the reasons, the kitchen is the heart of our home.
In its original purchased condition, our kitchen was a small, 9'x10' hallway (for lack of better word) that connected the original home to the first major expansion it saw back in the 1970s. (Our original floor plans were included here!)
As soon as we toured the house, we knew we wanted our new kitchen to be where the formal dining room was located. The formal dining room was a large, centrally located room, with northern-exposure windows. It led to an equally large sunroom with 8 large southern-exposure windows to the backyard. During our construction, including a raised 16-foot long engineered beam into the ceiling so we could fully open the dining room and sunroom to create one large open-concept kitchen/dining room bookended by wall-to-wall windows on both sides, was a non-negotiable!
Once our rough construction was underway, we could then concentrate on design. In our Amethyst kitchen, we had gone modern with our design with crisp white cabinets, shiny black countertops, and stainless steel appliances. Lady Beekman, however, wasn't about to get white cabinets…
We were not only keeping all of her interesting details and rustic charm, but featuring them. She demanded intentionally moodier tones and layered textural elements. Seeing we love a challenge (and we had a very set budget for this renovation), we decided to not only keep the original 1958's exposed brick wall, but build-up the half-wall and feature it in our kitchen. We would keep the handmade, hand-nailed hardwood of the former dining room and fill in with brick in-lays any missing flooring due to architectural changes. We would keep unique house elements, such as as the brick and wood mantel/shelf in the formal living room, and exposed beams in the former sunroom, and anchor our kitchen/dining room designs on them (can you spot all these elements in the picture above?)
To honor this house's rich elements while introducing some modernity to it, we chose warm walnut and cream cabinetry of complementing but different styles to outfit the kitchen and adjacent butler's pantry, and unifying white ice granite countertops (which has a white/cream base with black, grey, greige, brown and even some red tones). Our budget allowed for the top-tier quality cabinets of the a Home Improvement store. We worked closely with their design department and our construction company, who would do the installation. I had a strong vision for how I wanted the new kitchen layout (I blame my trait — I am an Industrial Engineer after all  and, facilities layout is my jam!). And, despite being warned against that design (by two people!), I followed through with how Matt and I wanted our kitchen to function and look, and, over 4 years later, we still have no regrets.
We played a lot with rustic vs. modern elements, old vs. new. Our modern shaker-style walnut cabinets, in the perimeter of the kitchen, were complimented by sleek stainless hardware. Our kitchen island was outfitted with antique-cream cabinets and oil-rubbed bronze rustic hardware. The outer perimeter of our kitchen received modern recessed lights, and the central chandelier atop the island, a rustic farmhouse pendant.
Our Butler's pantry (aka. our old kitchen), received the same antique-cream cabinets and rustic hardware as the kitchen island. Its rustic design elements include a hammered copper sink, oil-rubbed bronze faucet, and a stained walnut hardwood backsplash.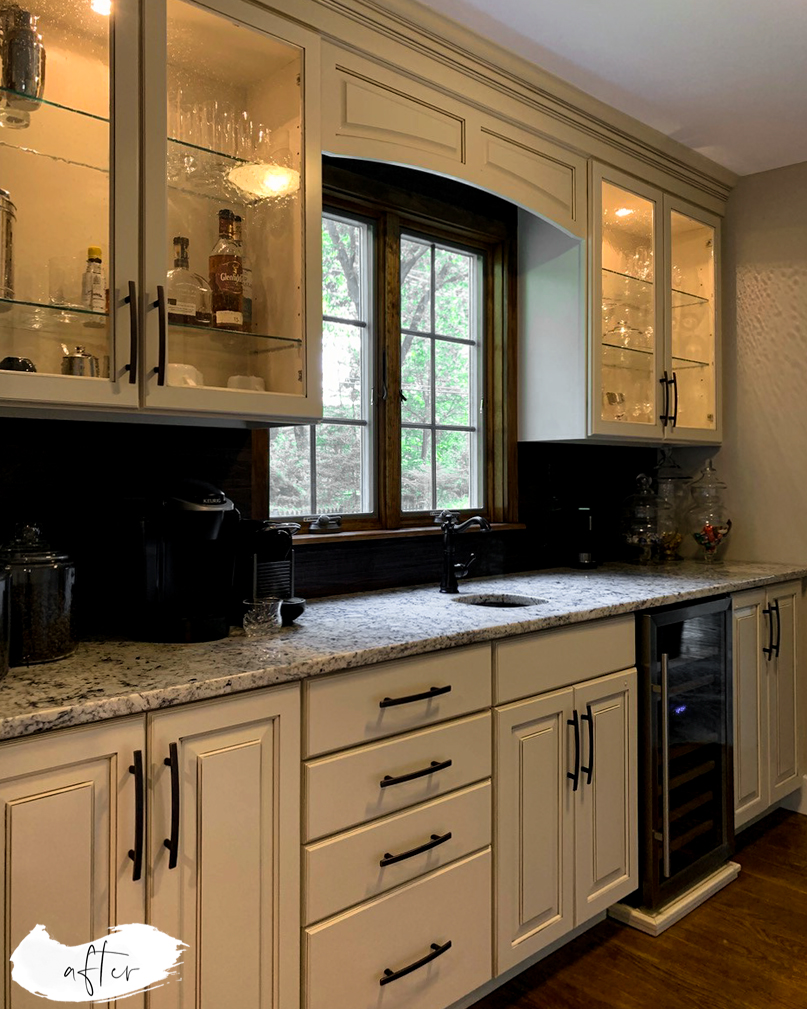 I had a working kitchen by Christmas eve – and you better bet I hosted a dinner for friends and family! No, construction wasn't done. The four of us were still living in that one "bubble" room, we still had remnants of the twelve types of wallpaper around the house, floors hadn't been stripped or stained, the walls were still being skim-coated. Yet… it was a merry (and memorable!) Christmas. I had finally learned not to wait for perfection to enjoy life (which, to a self-aware perfectionist, it's a tough lesson).