The Construction Bubble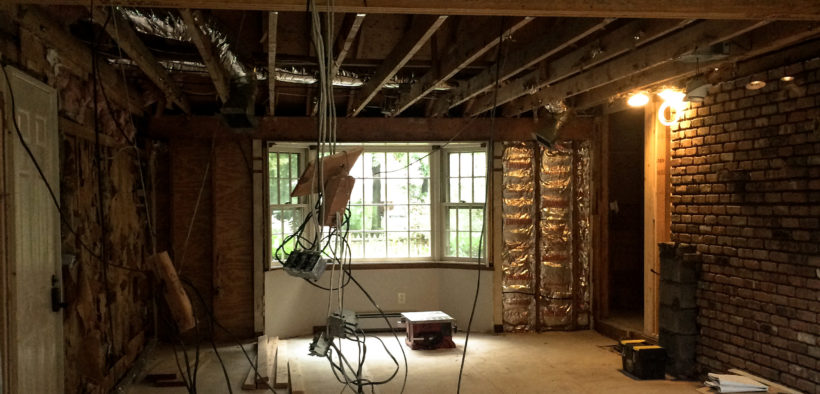 As we previously mentioned, we would have loved doing our massive renovation in phases. Yet — renovating this much at once was our only option to be able to update and gain efficiency with the home's systems (gas, electric, plumbing…). 
At any given day during five long months, we had up to three crews at home — Demo crew, framing crew, electric crew, plumbing crew, insulation crew, sheetrock crew, HVAC-installation crew, finishing crew (carpenters, masons), clean up crew. And that doesn't include all the material delivery crews, all the Township Inspectors, and all the "add-on" crews (fiberglass spraying crew, glass shower door installation crew, granite crew, …).
During that time period, our family of four would live in one "sealed" room, in one extreme of the house (the formal living room, which would remain untouched), and have a makeshift kitchen/eating room/hangout room in the other extreme (accessible only through the backyard). Our then-preschool-aged son and I were home full-time, our then-Kindergarten-aged daughter was going to school, and Matt was working outside the house for 12 hours.
 It was an intense 5-months: it was busy, we had decision-fatigue from the minutia that goes into a renovation this size, and it was dirty, which for me, particularly, was a huge challenge. I would have gone insane had I focused on keeping our living and sleeping spaces clean at all times… Despite the fact I was militant about cleaning and doing our laundry every night, construction dust just got in and settled EVERYWHERE. 
On particularly difficult, loud or dirty days, it helped to leave the house, spend time in the backyard, take walks… but those options were short-lived. We started the renovation in late September, and, that particular fall and winter were of frigid temperatures here in the Northeast. Around mid-October, we had a 3-day period without heat (during the conversion of oil to gas). Those same 3 days, we had temperatures of 27F. Yikes! We braved the cold the first night with borrowed space heaters, but did go to a hotel room for the next 2 nights when, beyond the cold weather, the water to our home had to be turned off for extensive plumbing work. It was a much needed break from the chaotic process of the renovation. Having hot showers, hot meals, and a crisp clean bed was a wonderful change of pace.
"Why didn't you stay with friends?" you may ask. We did. During times we needed to stay out of the house for our safety, we did (thanks, friends!). However, this was not a long-term solution. We have always been a family that thrives on our rhythms and routines. During the construction time, instead of focusing on the chaos around us, and what was out of our control (hello, dirt!), we challenged ourselves to focus on what we could do to provide ourselves and our family with consistency —this mindset kept us grounded. We kept our young children in their home and with us, with their toys, on a regular wake up and sleep schedule. We had breakfast as a family in an environment that was clean and set up for that purpose. Matt left for work as our daughter was getting on her school bus, our son and I did laundry, welcomed the work crews, and started our day of activities (free play, crafts, music, outdoor, games, reading). I kept a regular nap time for our son, away from the construction (sometimes that meant sleeping in our "bubble" room, sometimes that meant sleeping in his carseat as I drove around or parked in a park). The kids would have ample time for play, homework after our daughter arrived home, a regular bath routine, clean PJs, and family dinner. I would clean our living areas every night after they went to bed so they would wake up to a clean environment for breakfast. Rinse and repeat. For five months.
Our daily cleaning routine during construction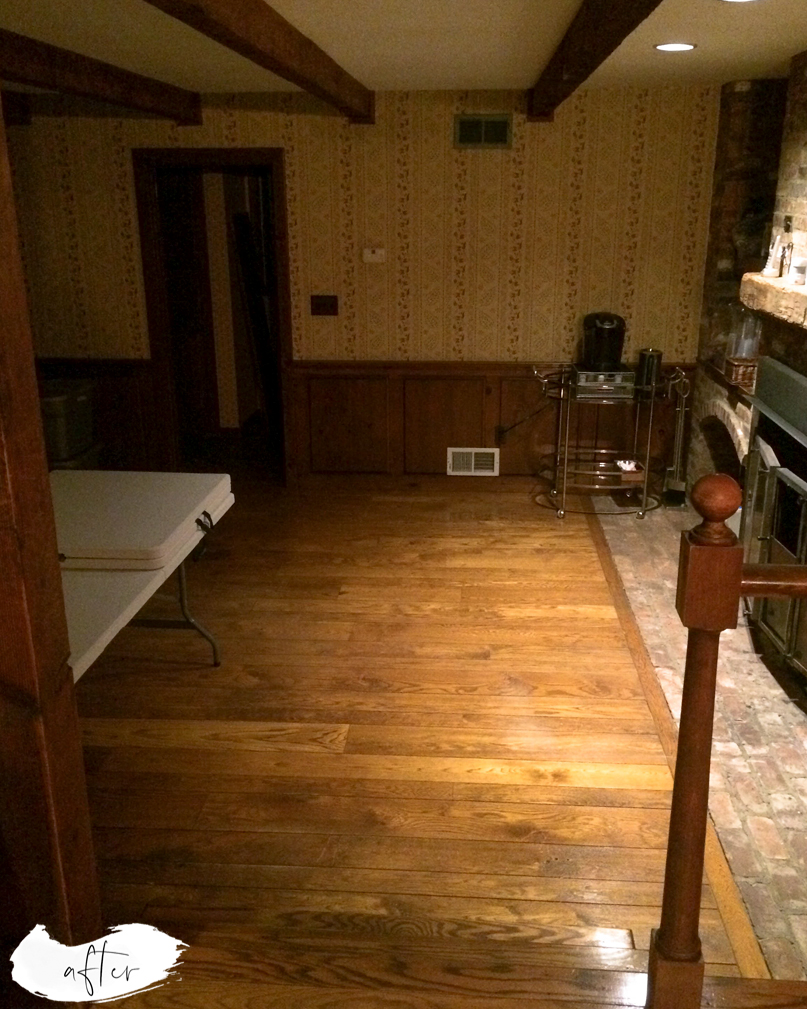 I focused on making sure we had nutritious meals three times a day (plus two snacks for the kids!), despite our limited resources at that time (we had access to a fridge, an electric kettle and a microwave). I always made and sent our daughter's school lunch and snack from home. Again — I simply focused on what I could do to keep our rhythms and routines expected and consistent. And when things went array, we became malleable, adjusted, and solved the issue at hand. Then, without delay, back to our rhythms. 
Maybe it is the fact that those months feel like such a distant reality right now, but the construction seems to have flown by. By end of December, we had a semi-functioning house again — we had a new floor plan, gas heat, hot water, and even a functioning gas stove/oven. The renovation that was left for early 2016, impacted the house extremities, or easy-to-seal-off areas such as the mudroom and garage. Our main areas were "done". 
Was it easy? No. Would I do it again? Yes, under the right circumstances. For us, this was not only worth it, but extremely rewarding. And, I must say, even though the four of us have always been very close and self-reliant as family (my parents lived in another country until fairly recently, Matt's parents have retired in another state, and three of our four combined siblings live in another country or state), living in this metaphorical (and quite literal!) construction bubble, just us, bonded us tremendously.