(In)Formal Dining Room
If you have noticed, so far, very little has been said over here about our Dining Room. It is, as the kids say these days, not "Instagram-ready". A lot of work has been done to it structurally to get it to the room it is today, yet, it is far from done. Actually, very little has been done in terms of of the aesthetics upgrades we hope to one day soon, be able to accomplish.
When we purchased Lady Beekman, the original "Formal Dining Room" was where today, we have our Kitchen. It was a very large and character-filled room that had what originally was the external brick wall of the house. From what we have been told about the history of this house, it went through a first expansion back in the 1970s to get to what we are calling the "Original Floor Plan":
Original Floor Plan
Current Floor Plan
This room (the original Formal Dining Room, in the background) got these beautifully imperfect hand-sawed-wide-plank walnut flooring with hand-made square nail heads in the 1970s. Part of the original brick flooring still remained as an inlay into what used to be the Sunroom. Why is it important for us to set the character tone of the Kitchen? Because we knew from the get-go that these rooms would become one.
We absolutely wanted to keep the character of the 1970s flooring and brick inlay. Not only did it make sense from a design-choice perspective, but a financial one as well. We had a very set renovation budget and scope creep is a real thing. Had we opted to changing the flooring in the future Dining Room, we would have had touch on at least three other projects (we shall discuss these soon).
First, let's discuss the many projects we did do back in 2015/2016, and their overall impact in our house:
We added an engineered beam so we could structurally fully open these rooms to each other.
We closed the door that used to open into what used to be an office space (now, on the other side of the wall, our Main Bath).
We came up with the solution to unite the three types of flooring that collided in this space by adding to the already-existing brick inlay. With this choice, we were able to transition the Kitchen flooring to the Dining Room flooring and keep all other original flooring.
We also did some basic cosmetic lifts:
We salvaged the original paneling that was in this one wall of the sunroom to bring it into our Family Room (which had two out of its three walls with paneling. So, we completed that third wall).

We removed every inch of wallpaper and borders that lived here (there were many types);
We stained all original woodwork in a medium walnut to hide the orangy-tint of the old stain.
The steps from the Dining Room to the Family Room had their own saga:
We worked with a carpenter to build a fitting continuation of a beam that had been cut from the Family Room and floated above the steps of our Dining Room (and caused some damage to our Project Manager's head during construction. Ouch! Sorry, Mark!).
We found (in our second story attic!) the original steps and railings that had been taken out to accommodate a wheelchair lift from the (now) Dining Room into the Family Room.
A few years later and a few broken spindles in this railing (due to a much-too-big-kid that decided to "go through" the spindles for fun), we built a sturdy, more industrial railing to these steps. We stained all new structure the same medium walnut, to keep our woodwork cohesive in this space.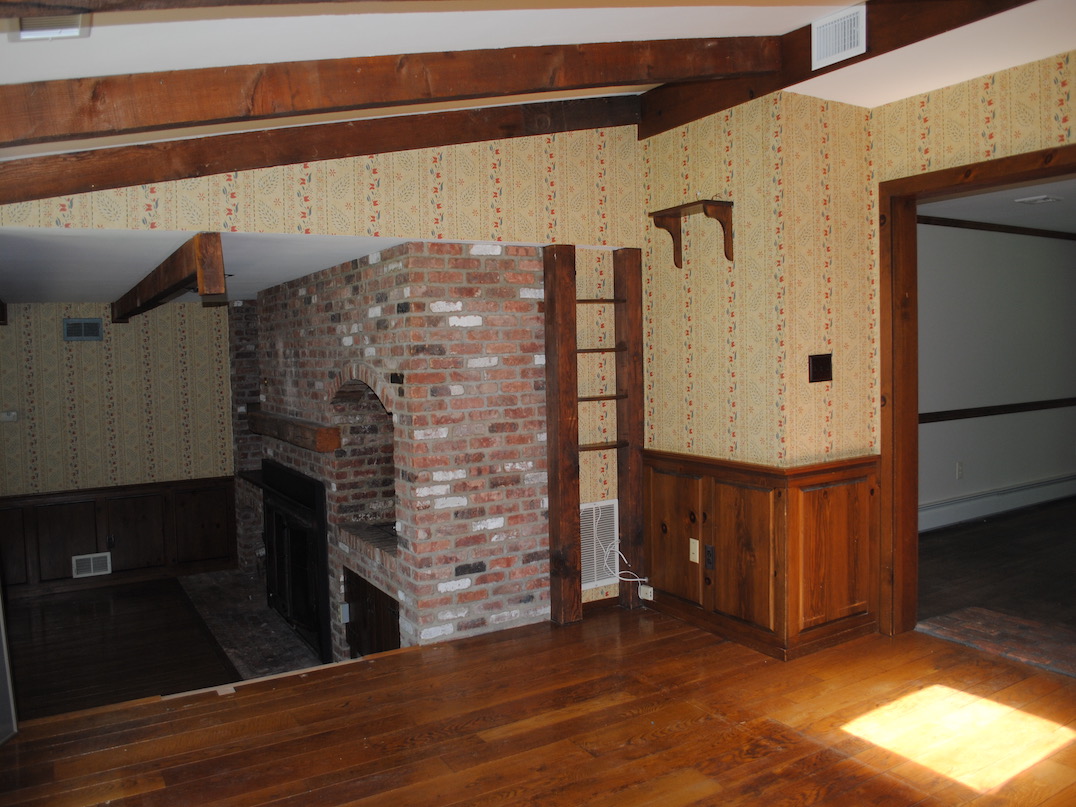 Then, we had the ceiling saga:
First, we added a chandelier to this room (it had no overhead lights).
After three years, a lot of money attempting to fix a pretty sizable leak we had at our off centered skylight (we invested in re-sealing it, re-enclosing it, waterproofing the ceiling around it…) and literally growing to have panic attacks every time rain was forecasted, we opted to completely close the skylight and re-roof the area above it. We didn't make this decision lightly, after all, the skylight gave us so much light into these two rooms. However, closing it was one of the greatest decisions we have ever made! We haven't had a single issue with moisture in this room (from the ceiling, at least) since then, and I am back to loving those rainy Jersey days!
A foreseen and much expected bonus of closing the skylight was that by moving our chandelier and adding a second one, we were able to make this room perfectly symmetric, and that just makes my little OCD heart happy!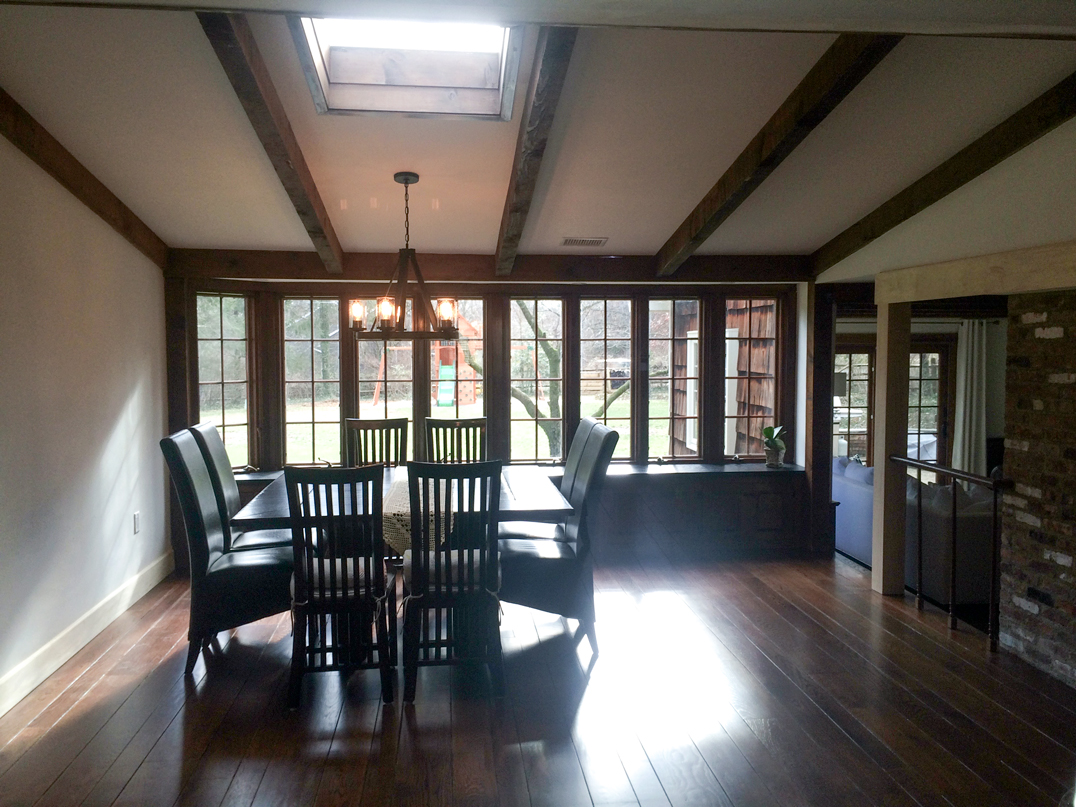 This room has been fully functional and it is a huge part of our lives in every step of its "imperfection". One of the things we will need to address sooner rather than later is that "wall of windows". We have eight windows from the 1970s that for the most part still work (5 out of 8). Three of them, however, let all the rain water in. Ugh. ("Lady Beekman and Leaks", chapter 32!). We brought in window experts and unfortunately, not only are the seals bad, but they just cannot be refurbished.
Because these windows sit on this very funky, also asymmetrical, non-continuous bench, we have MAJOR reason to believe we have water damage behind the built-in bench  (I have seen water seep in and go down, we have moldy smell coming from them, and we know this bench is not well insulated as in the winter you can feel a draft from the outside, and, worse, in Fall, when leaves get blown outside, we find debris inside these cabinets).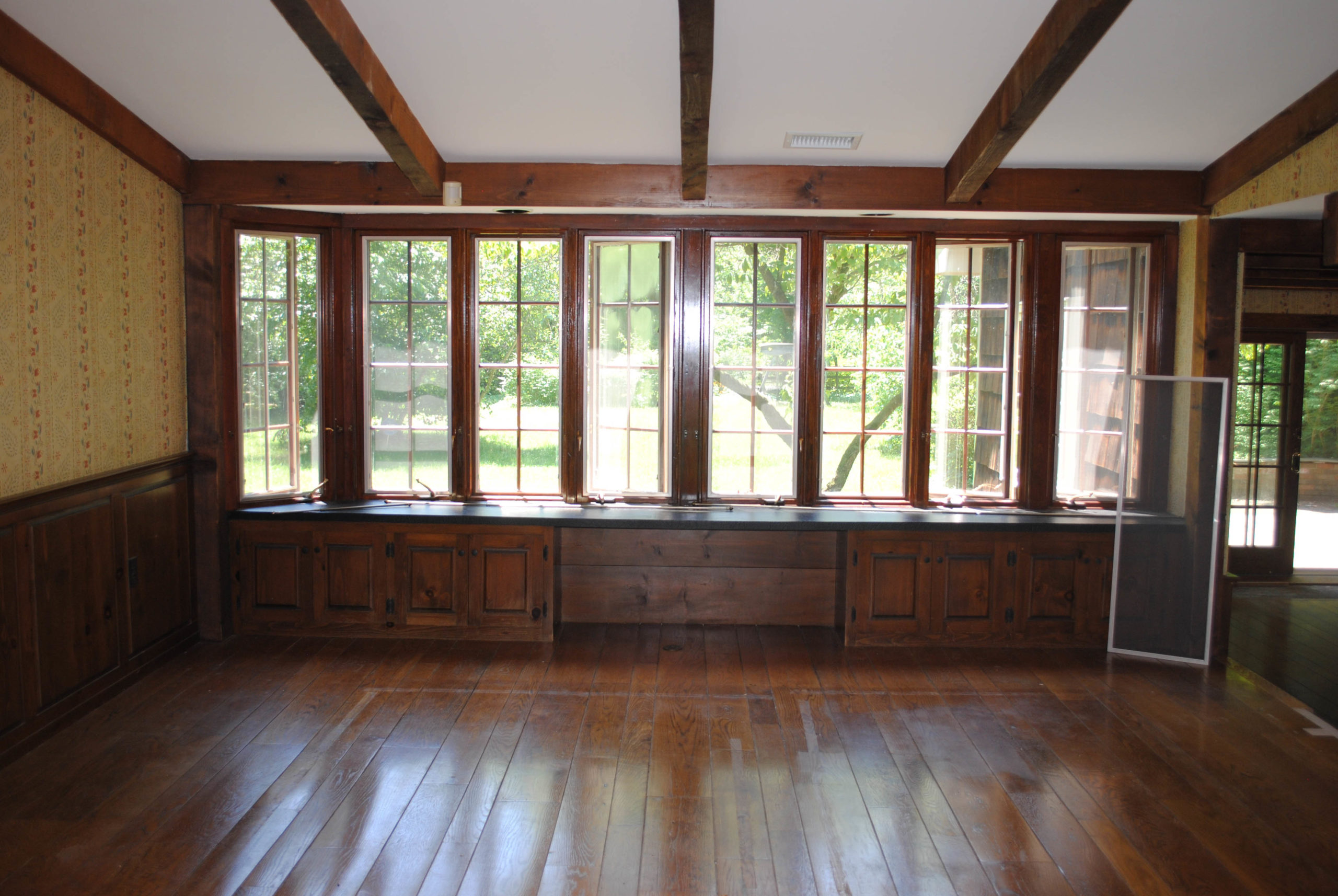 If you recall, in the beginning of this post, I was explaining we originally decided to just refinish the flooring in this space… This is the time you get to bring your palm to your forehead and realize we don't know what the flooring situation is under this built-in. Do we have flooring under the built-ins? Is the water damage too great? We have no idea. If we are super lucky, we get to refinished the whole floor of the Dining Room. Again. If we aren't lucky, we are about to open a can of worms…
We could do a 1-1 replacement of windows and built-in bench (I really do love the amount of storage it gives us). But we are not sure this built-in is the right use of this space for our family. Since this area of my house has become by green house (I can truly grow anything here. These magical Southern-exposure windows!!), I dream of floor to ceiling windows here. Maybe accordion windows that then open to a dine-out deck? (Adds deck to list of to-builds). See what I mean about scope creep?
So, until we have a full agreement on windows-bench-flooring, Matt and I won't even dream of replacing our 16-year-old furniture. We have always had the philosophy that the house needs to work for us before we can address aesthetic issue (so for now, I only dream of lighter chairs, some industrial shelving, and perhaps a much longer farmhouse table…).
Actually, a parenthesis on the table: I have always loved our square table and now, I truly love the finish of my table.
About a year ago, my dear, dear friend Bruno stripped all the dark, shiny varnish off of the table and sealed it for me when he visiting us because I couldn't keep quiet about how much the furniture's darkness and shine bothered me now that we no longer had a skylight. (I usually don't make my guests work while they are visiting us, but what a productive visit it was! Thank you, Bru!)
So the Dining Room is loved. And used. As is. Dark chairs and weird bench and all. We lived and loved it through all of its unfinished and imperfect phases. We hosted Christmas dinner back in 2015 with bare, sheetrock + skim-coated walls, we hosted our son's birthday party during a storm by throwing a tarp over the leaky skylight, we hosted Easter brunches with towels around the leaky windows so the chill would keep out. It is a lived-in room in our home, and, as such, perfection is ephemeral.