Hardest Working Room
Picture this: it is raining or snowing (New Jersey has a healthy amount of snow accumulation in the Winter). You have a car full of groceries. You have a months-old baby in his carseat; a toddler in hers. By the time you safely get them out of the car, you are drenched. You don't have a covered porch. And, when you step into your home, you are immediately in your living area, dragging dirt, water and snow into your hardwood floors. That was our reality for eight years while we lived at Amethyst. I understand these are "first world annoyances", yet living through situations like that for so long made the top three "must-haves" when looking for a new home: an attached garage, a covered porch and a mudroom.
When we purchased Old Beekman (which had a covered front porch!), we immediately knew we were going to change its floor plan to accommodate a mudroom. Given our original floor plan, we knew that by giving up a very oddly placed and small bathroom underneath the steps (nicknamed Harry Potty by us), we could create a mudroom there. That space would not only link our garage to our home and backyard, but it would have ample space for a proper mudroom. A space that would truly serve as a command central for our family.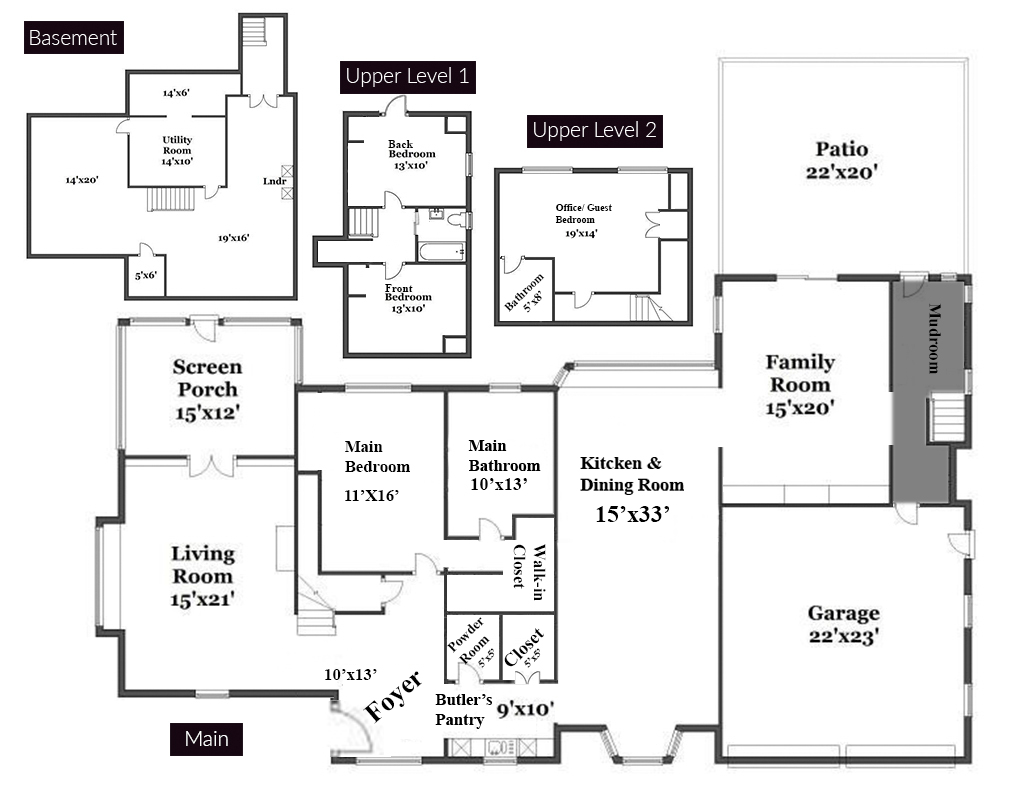 In theory, this floor plan change was an "easy job". The execution, however, was much harder. The bathroom underneath the steps had a pump sunk into the garage floor, water lines that ran under its concrete, and a very uneven slab.
The construction company we worked with brought in experts and slowly but surely all of our wants became possible.
A liquid leveler was poured throughout the space to make the slab even enough for us to place tile.We used the same gray and white tile we have used in bathrooms (and one day, perhaps, we will change that as I am not precious with this space so it can serve its purpose. So yes, this light tile gets dirty. Really dirty. And often).
I worked closely with our carpenters because Matt and I wanted to preserve the original nooks of what was once the bathroom… What before was a "toilet nook" (sorry, but I couldn't possibly use the term water closet here. It was a literal nook), we dreamed of transforming it in usable storage space. What before was a "shower nook" (again, a literal nook. Matt is 6'1" and could not fit the space), we dreamed of transforming in a  wet coat closet (hello snow gear!). A third storage space was also preserved. Our carpenters made custom doors for the nooks that were kept, and, as an homage to the original house, they mimicked the woodwork found there.
A few months after construction was completed it was Mother's Day. And my wish was for Matt to hire our carpenters to execute the mudroom bench I had sketched out (What can I say? My language of love is construction!). And so it happened. Our carpenters did a great job executing my sketch — they built the whole structure in pine.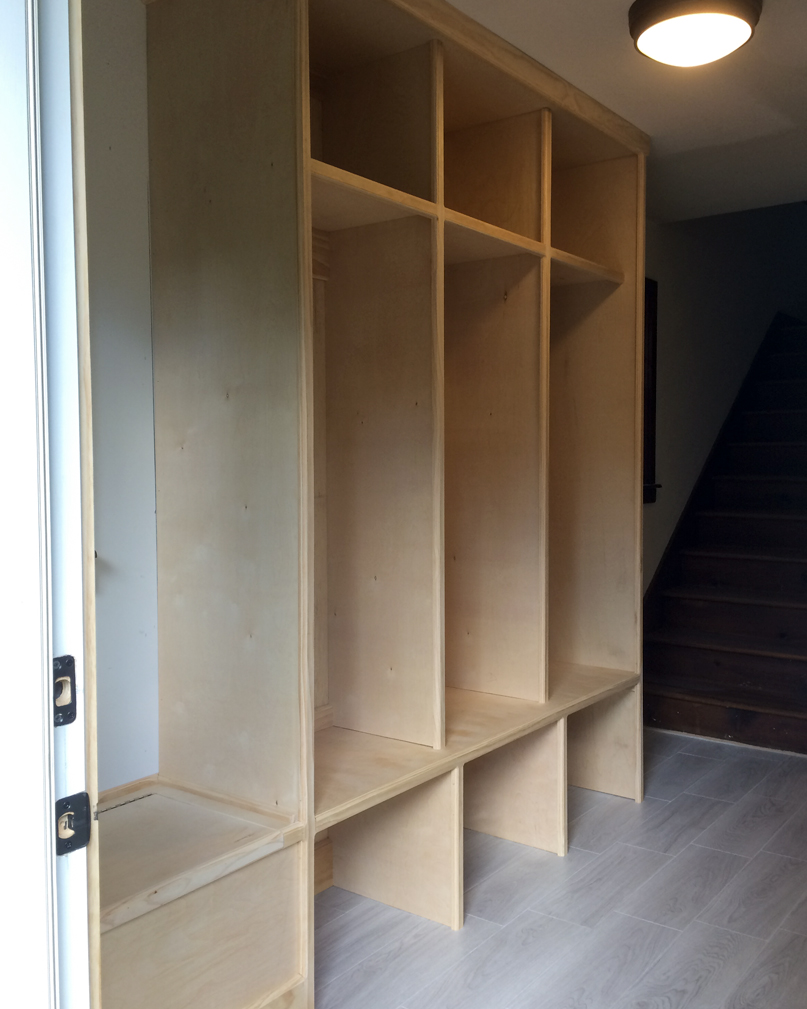 The organizer in me planned this bench after I had already assessed my storage needs for this area. The storage bench right by the backyard door houses a first aid kit, sunscreen, bug spray and bracelets, poison ivy soap, backyard toys for the kids, and a few other backyard necessities. Three floor-to-ceiling locker-style benches with an open cubby for shoes, a seat, a long storage area with hooks (for coats and backpacks) and a tall shelf follow. Why three? Truthfully, I preferred having three roomy spaces than four tight ones – we were limited by the space between windows. Also, because Matt and I don't mind sharing a cubby! Thirdly, I guess, because if I am being truthful, I was always open to the idea of having a third child (that didn't happen).
The whole design came alive when painted the walls the same warm gray "base color" of our home, Benjamin Moore's Eagle Rock (1469), stained the bench seats a pure walnut and painted the balance of the bench in glossy white. 
On the wall that faces the bench, I have my Pottery Barn Wall Organization System. I have had it for 15 years now, and it is one of my favorite organization tools in my house. Paperwork, incoming mail, a shredder, pin-worthy art, loose change, last-minute-leaving-the-house-necessities (Listerine strips, anyone?), car keys… everything has its own home in my organization system. And, because it's literally where my kids leave from and arrive to from school, everything gets organized there, without being dragged into the house. School shoes? Backpack? Paperwork? Permission slips to be signed? Stamps needed? A new supply to be purchased? An amazing drawing? Note from the teacher? It all gets taken care of in the mudroom!
Another fringe benefit? Because the mudroom links to the backyard, once the kids arrive from school, they usually take a few minutes to get themselves unpacked, and without stepping into the "house", they are off to play in fresh air in the backyard! I know our routine will evolve as they become teenagers (or… with the Pandemic and remote learning!) but our command center very much still is in our mudroom!