Room to Grow
Who recalls what we were originally working on when we coined the term Lady Beekman? That frustrating day in late June 2015, when all of our efforts seemed in vain, we were working on our daughter's bedroom. And, as much as we wanted to have our kids settled in our new home, safety was our number one concern when it came to this 1958 house. Before we could tackle design and finishes, our daughter's porch had to be rebuilt, new sheetrock was brought into both kids' rooms, new windows and flooring were installed throughout the house. By this time, our main floor construction had started, and all four of us were living in our construction bubble. Then, in a blink, it was Spring of 2016.
Structurally speaking, our only option was to keep the compact 10'x13' footprint for the kids' bedrooms, including all original nooks (which enabled the HVAC system to be brought up to their rooms without any destruction on the upper level of the house). Design-wise, our vision was that our kids' bedrooms would be calm, restful spaces that would be adaptable to their needs as they grow and change. We wanted rooms that would have a modern feel, yet fit with the overall aesthetics of our home. And, we wanted our kids' bedrooms to reflect their personalities and tastes.
When designing our kids' rooms, we had a few constraints we had to take into consideration. Even though our whole house now had central air conditioning, the simple scientific fact is… hot air rises. Located in the upper level of the home, these rooms became insufficiently cool on hot Summer days. With optimal air flow in mind, we attempted several designs (different types of bed, furniture placement, window treatments) until we could land on our current, cool, kid-approved designs.
As I knew our daughter would quickly become a teenager in her room, I curated artwork, finishes and colors that could grow up with her. She is a very opinionated young lady, so she had input in all choices of her room: from color (a pure, warm rose: BM Wild Aster), to artwork (which I handmade, based on an inspiration picture she saw on a magazine!), and finishes' choices. Since she writes and has a passion for crafts, a small desk (with storage!) in her room was an appropriate request from her. And, since she is an avid reader, a comfortable, well-lit reading nook with a home for all of her many books was a must.
We knew where we wanted (and needed!) to place her bed, and we all loved the idea of a very simple, open, full size frame (this bed is amazing for maximum air circulation as it keeps a low profile and does not require a box spring!). The space above her bed seemed perfect for us to build a sturdy but soft, upholstered fabric headboard.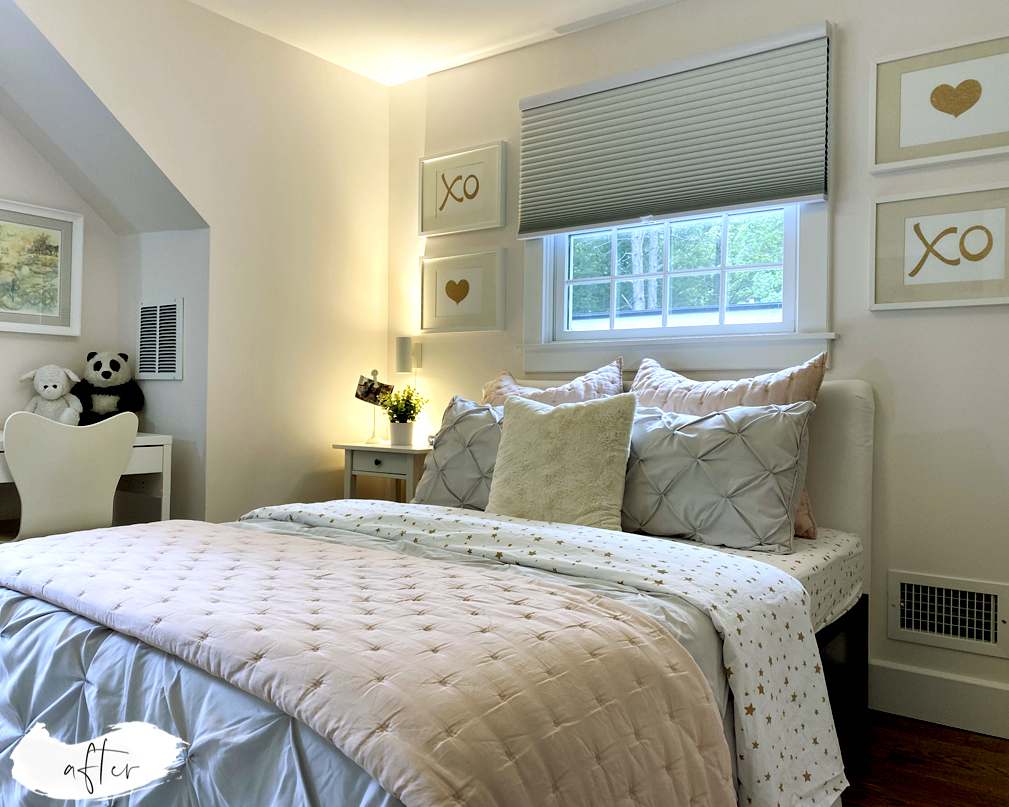 To round off our daughter's bedroom design, given the compact footprint of the room and placement of structural walls, we opted to create an open-concept closet. Much like we had done in our Amethyst Closet, we purchased a modular closet system from a Home Improvement Store. For the overall space we had available, two medium dresser units were ideal for the center nook, with a mix of tall and short drawers. We left a small nook as flexible space (which originally had shelves in it). As our daughter grew and started a sizable purse collection, small shelves gave room to hangers . One full length board runs across it all for a sleek top shelf. Adjustable hanging bars are available for the same system, so we used one in the left side nooks for dresses, bathrobes, and anything else that goes on a hanger. As she grows, if more hanging storage is needed, we can do the same to the right side nook. For now, that far right nook is her reading nook/library. Not only is it quite deep, allowing for three 18"-deep melamine shelves and a soft pouf to fit in it, but the previous closet had lighting installed, so a crystal chandelier was the perfect complement for her reading space. To finish the open-concept closet "wall" and connect all 3 nooks, we used primed and painted trim as a the connecting woodwork across the top and to cap the end and center wall segments.
I am happy to report our daughter has been inhabiting this room for over 4 years now, and the closet design has been able to keep up with her changing needs as she grew up from a child into a preteen.
Meanwhile, across the hallway, in a mirror-image bedroom of daughter's, our son, 3 years younger and an ever-admirer of his sister, wanted a room "just like hers. But mine."
His likes have not changed much in the past 4 years – he loves all things Star Wars, Planets, Space, Science and Legos. Unlike his sister, he is an early sleeper, so a light-tight and cozier room was needed. For that reason, we loved the idea of building a rustic shiplap feature wall in his room in lieu of a headboard (since we opted for same simple, open-framed bed as his sister's), and a mid-tone warm gray (BM Smoke Embers) for the balance of his room. These choices felt whimsical for a little boy, yet, we feel they can age well as he continues to grow up and eventually become a teenager in this room.
Since his sister got a desk in her room, his recent request has been for a shelving unit to display his Lego creations. Anticipating his following request, we have already designed a shelving unit-desk for his room… this is a build we hope to tackle this Fall (stay tuned!). For now, his room is very much into the "big boy" phase.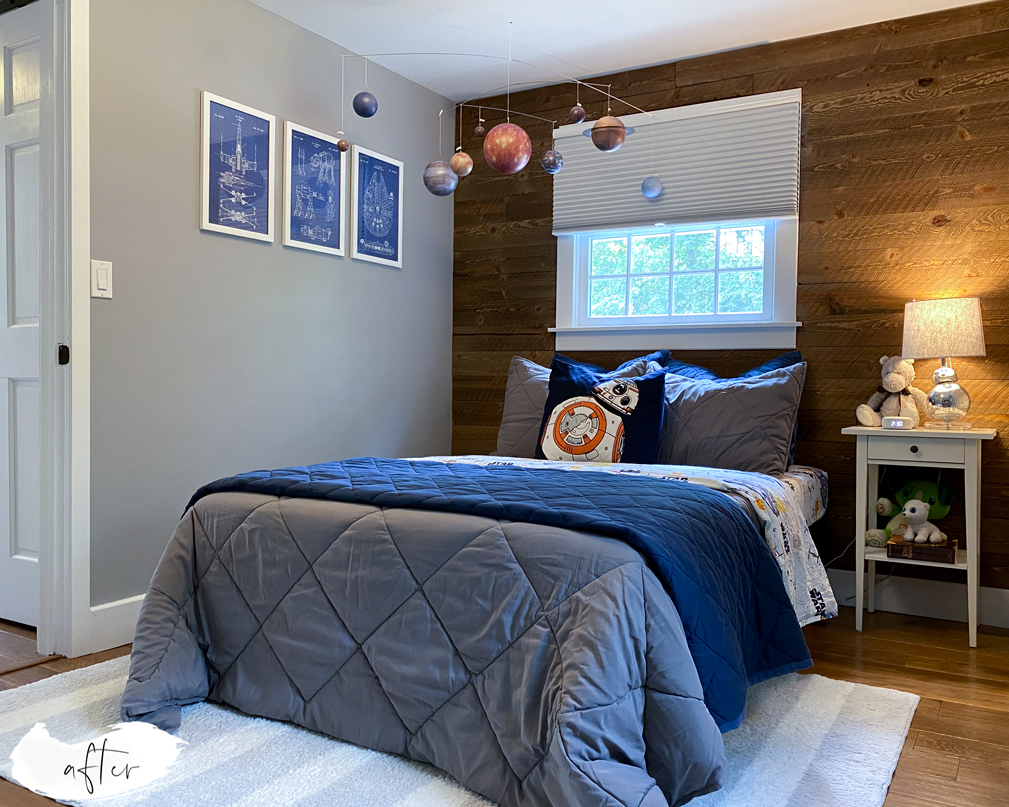 Given the structure of his walls, he received the same modular closet system as his sister's room, tailored to his needs. More shelving space for his books in lieu of a reading nook, and less hanging space.
Note: When we moved into Lady Beekman, we heard plenty of (unsolicited) advice on the fact our home had the couple's suite on the main level, and the children's rooms on the upper level. For us, timing was everything. And it was definitely something we took into consideration when purchasing the house. Our son turned 3 a few months after we moved here. His sister turned 6 right after him. Our first home had two levels, and they learned how to safely walk up/down the steps as soon as they could walk (we had gates, and we taught them how to sit and scoot down when they were toddlers, then walk down holding rails as soon as their legs could handle a step). We also knew our construction would take around 6 months to get done and we would all be together until then. By the time we had our babes in their rooms, our daughter was 6 1/2 and our son, almost 4. We installed motion-sensitive lights on their hallway, and before they step into the stairwell, their way is lit. I happen to be a light sleeper, and the kids' rooms also happen to be directly above our room. All of this to say — we took an overabundance of care, and thankfully, have never had an issue with sleeping in different levels. It works for our family.